Angel City Brewing Company is known for having great craft when it comes to beer from their classics like the Angeleno IPA to their Eureka! Wit. However, their appreciation for great craft doesn't stop at beer, but instead extends to the local community of artists, crafts vendors, and food trucks. Every Sunday Angel City opens up their Public House to create the Beer Bazaar, where vendors are able to sell their unique merchandise. And since art and beer are two of our favorite things we had to make a point to visit the Sunday Bazaar.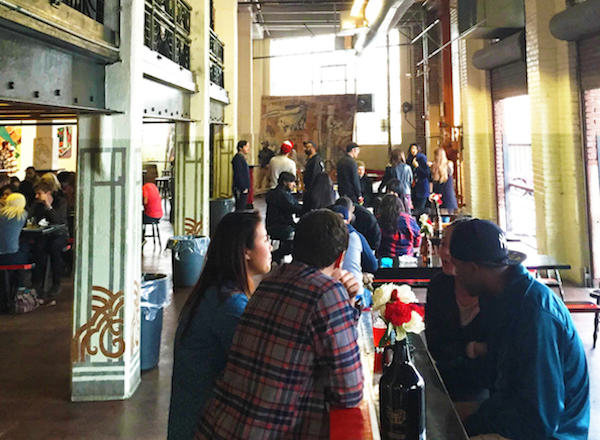 This past weekend we were able to make it out to the LA's downtown arts district where we found Angel City's Public House packed. We enjoyed the White Nite, a nitrogenated golden stout with a creamy mouth-feel, and a surprising chocolate and coffee finish, while perusing the wares. Feeling transported back in time, we browsed the handmade vintage and modern fashions of eM Vee and Daddios. Tempted by delectable assortment of delicacies from Tamiza's Treats, a small artisan bakery and treat shop we somehow managed to control our sweet tooth. The continuous aroma that wafted in from Phantom food truck, an Asian Fusion style cuisine with a menu that will have you drooling from the descriptions alone, also didn't help out New Year's weight loss plan.
There were many more vendors as well and they change every week. Those that are commonly seen are Raven Gypsies, Sour Girls, Chop Siouxy, Black Brain, Chrysalis Natural Therapeutics, Ether Jewelry, and Soulful Essences. Angel City Brewing Company delivers the full craft experience – great craft beer with great art and handcrafted goods.