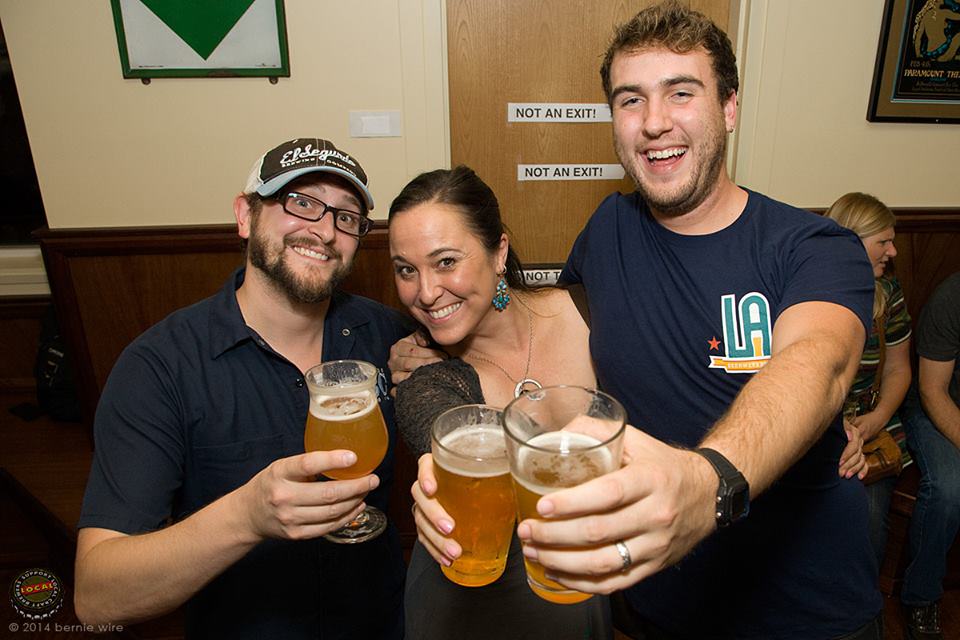 There was much more craft beer to be enjoyed as the team headed to Toronado in San Diego, a laid back pub with 56 rotating, quality drafts and casks. The Meeting of the Guilds started at 7pm and by the time we got there at 8pm the place was packed. The meeting joined three California Brewers Guilds (San Francisco, Los Angeles and San Diego) for the first time in San Diego Beer Week history. Patrons were encouraged to taste their way through the 15 represented beers for each Guild then cast a vote to see which one would win the prized Golden Keg. The light-hearted competition was won by San Diego that night and they took back the Golden Keg from Los Angeles who had won it at Mohawk Bend for LA Beer Week.
Participating San Diego breweries: Mother Earth Brew Co., Karl Strauss Brewing Co., Societe Brewing Co., Monkey Paw, Booze Brothers, Pizza Port, The Lost Abbey, Mike Hess Brewing, Stone Brewing Co., Green Flash, Culture Brewing, Ballast Point, AleSmith, Benchmark Brewing Co., and Bagby Beer.
Participating Los Angeles breweries: El Segundo Brewing, King Harbor Brewing, Beachwood, Monkish, Wolf Creek, Brewery at Abigaile's, Kinetic, Ladyface Ale Companie, Strand Brewing, Golden Road, Bravery Brewery, Dudes Brewing, Alosta, Smog City and Eagle Rock.
Participating San Francisco breweries: Headlands Brewing Company, 21st Amendment, Southpaw Brewing, Magnolia Brewing, Fort Point, Social Kitchen & Brewery, Cellarmaker, Speakeasy Ales & Lagers, Anchor Brewing, Thirsty Bear Brewing, Almanac Beer Company, Bartlett Hall, Pine Street and Beach Chalet.
After a fun-filled night, the team needed some rest. Saturday plans were in the mix and it looked like it was going to be a day of hopulence.
…and boy was it!