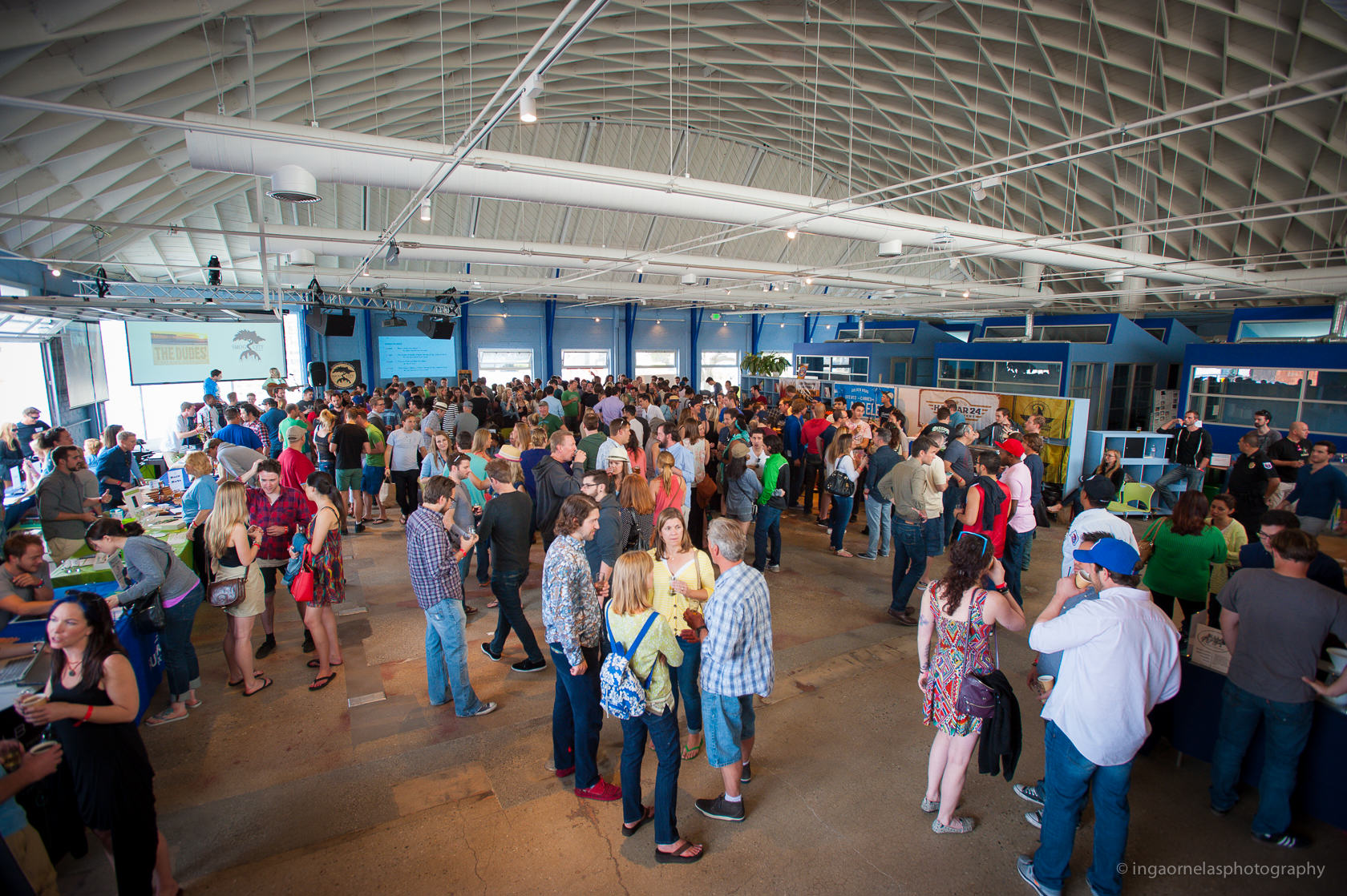 Our Tap Cheer & Give event was an enormous success with a tremendous turnout of socially conscious people partying with a purpose. Here's a recap of the action for those of you who missed us.
An eclectic assortment of Angelinos from around the city made the trek to Cross Campus in Santa Monica, helping Tap Cheer & Give show what can happen when you bring people together for charity.
The best part of putting on our events at Tap & Cheer is the kind of people we attract to our events. When you have an opportunity to party with a purpose, the best is brought out in everyone.
Ten percent of our ticket sales went to supporting one of the socially aware organizations in attendance, which included Omniscience Apparel, SOLO Eyewear, This Bar Saves Lives, and Would-Works. The remainder of proceeds benefited the SurfRider Foundation.
We were blown away by the wonderful people who turned out for the event and helped us to spread the word about our wonderful partners' charitable endeavors while having a great time. From start to finish, we had an amazing party thanks to our wonderful patrons.
Our event also brought out ten amazing breweries – Angel City Brewing Co., El Segundo Brewing Co., Firestone Walker Brewing Co., Golden Road Brewing Co., Hangar 24 Craft Brewery, LA Ale Works, Ladyface Ale Companie, Smog City Brewing Co., The Dude's Brewing Co., and Venice Duck Brewery.
Each brewery brought their A game with an amazing variety of beer styles being represented by our beer partners. The beer booths were buzzing with Tap Cheer & Give goers enjoying everything they had to offer.
Overall, there were twenty-one different beers to sample as event goers enjoyed music, crash courses on beer, and fantastic food and beverages.
Baby's Badass Burgers, Bird Pick Tea & Herb, LA Ale Works Sodas, Melody Bar & Grill, Pork Belly's Sandwich Shop, and Wise Coffee kept the crowd fueled while Federico Alonso of B.A.2.L.A. blasted out the jams and kept the crowd grooving.
It was also impressive how many Tap Cheer & Give goers checked in on our crash courses with beer judge/writer Tomm Carroll and beer guru Carl Townsend of Pacific Gravity Home Brewers Club. While we kept the party going on the main stage, they were busy educating our event goers about in-depth subjects like the origins of beer.
Needless to say, Tap Cheer & Give raised the bar for us. With the success of our event, the next Tap & Cheer party only promises to be bigger and better.
Thank you to everyone that made this event a resounding success. We're looking forward to the next one!